Do you have a bad credit history and need a fast and easy way to get some extra money? Then a car title loan with Instant Loans Canada is a perfect option for you! By using the value of your vehicle, Instant Loans Canada will work with you to determine the how much cash you can get – up to $35,000!
Your car is your credit and is used as your collateral, so it doesn't matter if you have good credit, bad credit, or no credit at all, you can keep driving your car and turn your title in the cash you need!
 Applying For Car Title Loans in Canada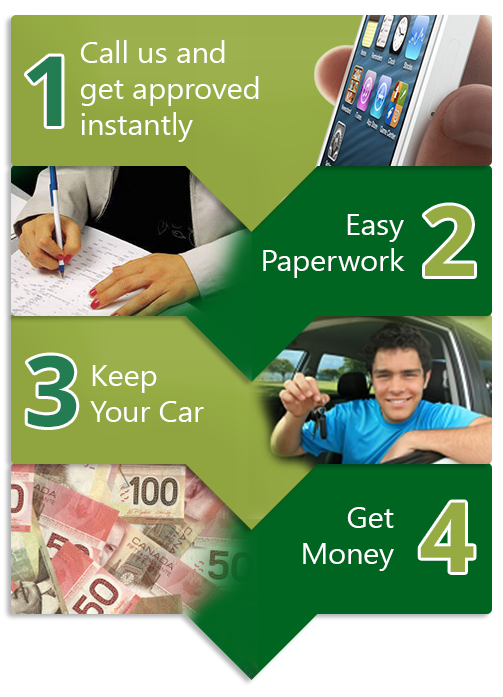 1. Call Us or Apply Online!
Instant Loans Canada will help you go through our simple and easy loan process, all you have to do is give us a call or apply through our online application! It only takes 10 minutes, so get started today!
2. Simple  Paperwork
With us, filling out paper work is a cinch. Our simple online application form only require a few basic information from you or you can call us and we will go over it with you! Once you have that done, we'll be able to determine the rough estimate of your vehicle and provide you a loan based on that.
3. Hold On To Your Car
After everything is completed you will receive your cash and off you go! Keep your vehicle even during the loan with us, we don't do any type of storage or hold on to your vehicle!
4. Obtain Cash
We can lend you $ 1000 to $ 35,000. The amount we loan is determined by the wholesale value of your car. Among the factors that we consider are the year, make, model, mileage and condition of the vehicle. Fill out the online auto title loan application now!
What's Needed
Vehicle Title (vehicle must be paid off and in your name)
Driver's License (name must match the name on the title)
The Vehicle (it must be inspected prior to receiving your loan)
Some more information……
Loan Fees:
The fees consist of an Auto Check (to check for accidents and vehicle origin), Lien Search (to make sure the vehicle is free and clear of all liens), and a Vehicle Inspection / Evaluation.
Loan Source & Renewal Policy:
Instant Loans Canada locates finance companies that provides 2-5 year term loans with the lowest annual interest rate. There are no prepayment fees for early repayment of the loan.
Implication of late payment or non payment
In the event of a late or partial payment, interest fees will be charged on a daily basis on the outstanding amount. Failure to pay will result in legal action, as per Personal Property Securities Act (PPSA) British Columbia, Alberta, Saskatchewan, Manitoba, Nova Scotia, New Brunswick, Prince Edward Island, Newfoundland & Labrador and Ontario.